Did you know that cock rings are the #1 most sold sex toy for men? The main reason: They get you harder, for longer! Not every cock ring wearer wears one for the sexual benefits. For some, it's not about sexual function and cock rings can just be worn for the aesthetic. Sometimes it just can feel good to have something "hugging" your cock.
Cock rings come in many different types and forms. However, the two main categories are adjustable/stretchy and non-adjustable. In order to know which cock ring is best for you, Cock Ring Expert has a list of the some of best cock rings under $25 in a variety of cockring styles and unique features.
1. M2 Weighted Cock Ring –
$17.99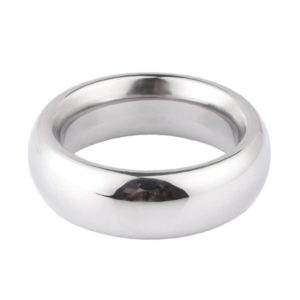 The M2 Weighted Cock Ring is by far our most popular metal cock ring in the non-adjustable category. This stainless steel cock ring weighs a whopping 188 to 220 grams (depending on the diameter size) and comes in 40mm, 45mm and 50mm. This shiny, thick cock ring is a favorite for guys who like the heavyweight without losing the snug fit this cock ring offers around their junk.
We've seen our fans enjoy this cock ring not only during sex, but also during every day life. One of our fans even told us that he loves to wear the M2 when going for walks as he enjoys the feeling of his heavy plumb cock constantly moving around.
Check out the M2 Weighted Cock Ring
2. Kobar Stainless Steel Cock Ring –
$12.99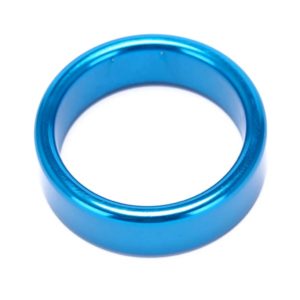 The Kobar Stainless Steel Cock Ring is another popular metal cock ring. It comes in a variety of vibrant colors and is a bit more lightweight than most metal cock rings. The Kobar has a pretty large depth to it, which pushes the wearer's junk forward. This is a great cock ring for guys who love to show off their bulge and basically acts as a "push-up" of your junk.
Check out the Kobar Stainless Steel Cock Ring
3. Erec Boy Multi-Set –
$8.99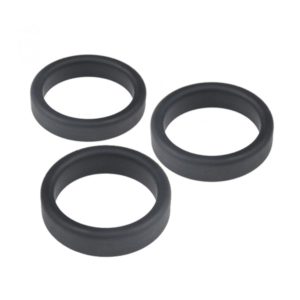 The Erec Boy Multi-Set cock rings are a set of stretchy easy-to-use silicone rings that fit well for most men. They have the right amount of stretch in them, which makes putting one on (and off) pretty easy. These cock rings come as a multi-set of 3, which opens the possibility to be a bit more creative with wearing them. Pop one around your balls and enjoy the feeling of your balls being gently tugged on.
Some well-endowed men experience the Erec Boy rings as a little too tight, so if you are one of those lucky well-endowed guys, consider a more stretchier ring like the Koky Tire Rings.
Check out the Erec Boy Multi-set Cock Rings
4. Titan Adjustable Cock Ring –
$12.99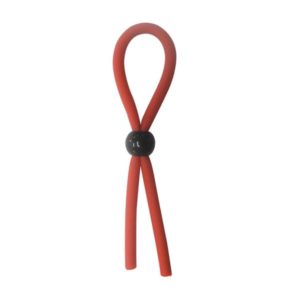 The Titan Adjustable Cock Ring is another of our most popular adjustable rings. This adjustable cock ring makes the top 5 list, because we think adjustable cock rings are the best way to find the most comfortable tightness for your erection. Is the ring getting a bit too tight or too loose? Simply adjust it and get on with your playtime. 
One fan let us know he wears this cock ring with the adjustable bead on the bottom, so it gives his balls a little more blood flow than with other cock rings, making it more comfortable to wear for longer periods. No blue balls here!
Check out the Titan Adjustable Cock Ring
5. Ergonomic Alpha Cock Ring –
$24.99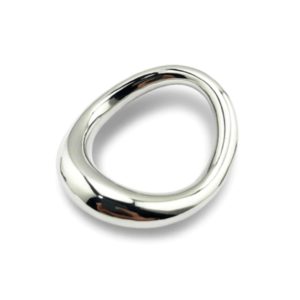 The Ergonomic Alpha Cock Ring is a new addition to our collection and we foresee a big rise in its popularity. The slick design of the Alpha allows you to enjoy a semi-weighted metal cock ring without restricting your balls like others can. It's simple, the ingenious curved design keeps the ring from falling "down" on your junk when you are flaccid, making this one of the best metal cock rings to wear all day.
Check out the Ergonomic Alpha Cock Ring
At the end of day, it's about you. Got a question about how to choose the cock ring for you, get in touch!
It can be hard to figure out which one will be the best for you. Looking for your first or if you're an expert like us, we know we have a cock ring for you. Silicone or metal, fitted or adjustable, weighted or not. It comes down to fit. 
Use our measuring calculator to find out what size to get. We don't want you to end up with a ring that doesn't fit correctly. That's why we introduced our "Guaranteed fit" policy on most of our fitted (non-adjustable) cock rings. Want a different size? We will give you a 50% off on the same ring in a different size.